Have you heard the term "evergreen sales funnel" before?
Online entrepreneurs and course creators are ALWAYS talking about evergreen funnels.
They make them sound like super special complicated magic that you need a PhD in business to understand and build.
(I really don't like how complicated other people make it sound! 😂)
The truth is, an evergreen sales funnel is just a fancy way of saying an automated system that sells your courses year-round, every day, to your audience, in a strategic way.
That's it!
See, no PhD needed!
In this blog post, I'm cracking the door WIDE OPEN on evergreen funnels that sell your courses all day in a systemized, automated way.
I'm going to explain what evergreen sales funnels are, why they're so awesome, and how you can build a simple but effective funnel to bring in daily sales of your online courses.
One reason evergreen funnels are so perfect for our course creators and clients is that it does the selling part for you, so you can get back to focusing on what you really LOVE: helping your students, teaching, sharing free content and value with your audience, and creating things!
When you let the evergreen sales funnel do the selling for you, not only are you taking all the "variables" out of the system so your sales can get consistent and keep growing, but your day to day job then just becomes creating fun new content for your audience around your topic that attracts people into your funnel.
Our students and clients love this part – they don't feel like they are always pitching their course, because their funnel is doing that for them every day! All they have to do is focus on attracting new people into their world with great free content and sharing their messages.
Sounds dreamy, right?
Let's go!
Evergreen Funnels for Online Courses: Demystified
Okay, so, like I said before an evergreen sales funnel is an automated system that sells your courses, year-round, every day, to your audience, in a strategic way.
I'll breakdown what that means.
First of all, evergreen funnels are automated.
That means they run without you doing daily maintenance. You do a bunch of work on the frontend to get your funnel set up (designing sales pages, making your systems "talk" to each other, writing the email sequence, etc.), but once it's turned "on", you're in maintenance-mode.
You'll be monitoring your funnel to make sure it's optimized and working, but you won't be actively hustling and selling "live" every single day anymore, since the funnel does the selling for you.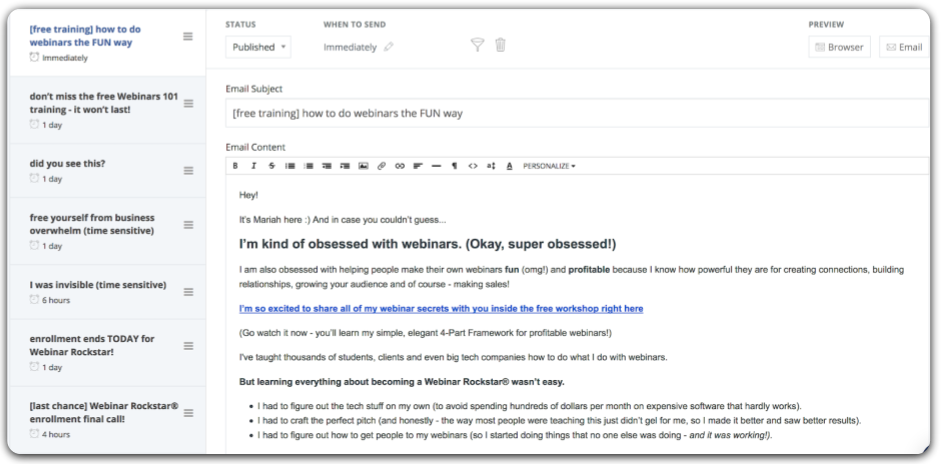 Evergreen funnels work every single day.
The beauty of an evergreen funnel is that it gives your audience what they want, exactly when they want it.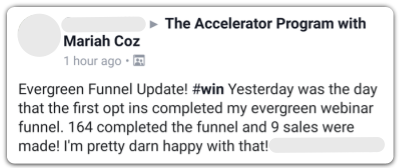 There are thousands of customers out there every single day looking for solutions. Many of those customers are primed and ready to buy. They do not want to wait months to be able to get the solution they are looking for – they want it NOW.
When you have an evergreen funnel set up, your audience can purchase your online course of digital product year-round.
They don't have to wait for a launch or other promotion to buy from you. This timing helps you capture people who are primed and ready to go! You probably don't realize how many people are out there literally searching for the solution you provide in your course. They need what you have NOW – not months or weeks from now.
Why create a barrier to purchasing when people are out there right now, wishing they could just join your course today?
Finally, evergreen sales funnels are strategic.
You'll spend a lot of time figuring out the ultimate customer experience for your audience – from what freebie will drive traffic to what copy should be on the sales page to what price makes people think, "I need to get this right now!"
There's a lot of analysis that goes into creating a real, profitable evergreen funnel. Basically anyone can turn a funnel on. To make your funnel successful, it needs to be strategic.
We created Evergreen Engines™ to simplify the process of creating your own evergreen sales funnel for your course. Get on the waitlist for Evergreen Engines™ here.
Evergreen funnels are one part of our 3-Part Framework for a profitable, thriving online course business. Our simple strategies combine live promotions with evergreen funnels to create the most resilient, profitable online course business model.
Even if you plan to launch your course live a few times a year, you still NEED an evergreen funnel in your business model. This is what it means to have a consistent and sustainable business month to month, not a roller-coaster ride of revenue!
If you don't have an evergreen funnel for your course, you're just missing out on sales every single day. And more than that, you're missing out on people you could be helping right now, when they need it most.
Why Evergreen Funnels Are F*@#ing Awesome
Evergreen funnels are amazing.
Seriously.
There's something so powerful about getting that first evergreen sale notification…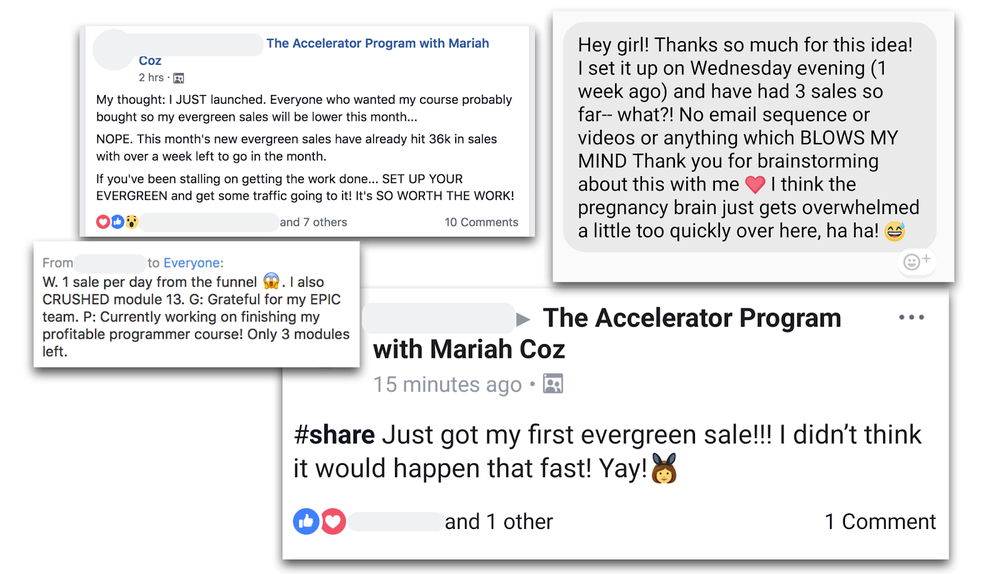 When you have that very first evergreen funnel sale pop up in your notifications…
❌ Without you launching for it…
❌ Without you hustling for it…
❌ Without you worrying about it…
Everything is changed.
It's more thrilling than the big glamorous launch numbers, or that one awesome webinar where you crushed your goals.
Somehow, that single little $500 sale means more than the $50k launch.
Because that one sale is an indicator that this WORKS.
It works for YOU (not just those other "special" people – you feel me?!).
It means you are building a sustainable SYSTEM – not just another promotion.
It means you're on your way to generating consistent, predictable income WITHOUT all-nighters or worry. Without the crazy hustle of a launch, stress free.
Your first evergreen funnel sale is the beginning of a whole new world. The possibilities just opened up to you and you can't help but feel like "oh my gosh, I can do this!"
When that first sale comes in while you're on a trip, or sleeping, or working on your next big idea…. It all becomes clear.
You are on the right track.
What You Need to Build a Simple, Successful Evergreen Sales Funnel
Most "Evergreen funnel strategists" overcomplicate the entire thing. I swear, there's a whole industry in just making sales funnels seem super complicated and using more and more complex software and blah blah blah.
They make these huge funnels that seem crazy complicated. They use tons of diagrams and charts and technology that make launching a funnel seem totally unattainable.
I am here to tell you:
Simple always wins. Simple funnels, simple offers, simple software – we're big fans of simple 🙂
Funnels DO NOT have to be complicated to be profitable.
In fact, they can be SUPER simple.
Here's exactly what you need:#1: An Awesome Freebie
Your funnel starts with your freebie. You want to have something that you're giving away to your audience that attracts your ideal customer right away. The important thing is that you want your freebie to attract the type of person who really needs your course.
That means that your freebie has to be totally related to your course. If you have a SquareSpace course, your freebie needs to be about SquareSpace, not graphic design.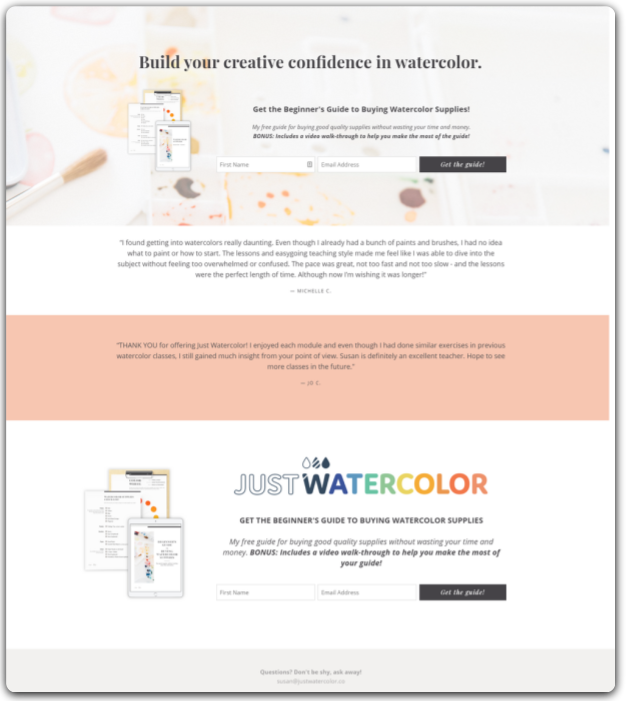 You need to make sure your freebie is enticing and relevant. Make your audience say, "OMG! I need to download this right now."
Bonus points if your freebie (checklist, cheatsheet, download, roadmap) is something that they can print out and really use!
#2: An Optimized Limited Time Offer
After your audience clicks on your freebie, they'll immediately see what I like to call a "limited time offer" page. An LTO page is a one-time-only offer of your course at a special price for action takers.
Your LTO page is basically like a sales page, but it has some specific copy, images and structure to indicate that this offer is only available for a super short amount of time.
LTO pages are great because they present the solution right when your potential customer has decided they want to take action. They've just entered their email to download the freebie. Why not offer them the complete solution right away?! No need to make them wait days, weeks or months to buy when they need it now.
You'll be surprised how many people are actually just ready to buy your full solution (your online course) right away without needing weeks of emails to "warm up".
People will be thanking you for making the course available to them right when they want it, and not making them jump through hoops or search through emails to be able to join!
#3: A High Converting Email Sequence
Now, of course not everyone will purchase your course right away. Some people need more education and information to make a decision. If your potential customer doesn't buy on the LTO page, they'll be entered into an email sequence.
Your evergreen funnel email sequence doesn't have to be anything crazy – you can pull from your highest converting launch emails (no need to reinvent the wheel!).
We have a special email sequence template we have our clients use that is included in Evergreen Engines™. No need to start writing those emails from scratch, just use our templates! Get on the Evergreen Engines™ waitlist here.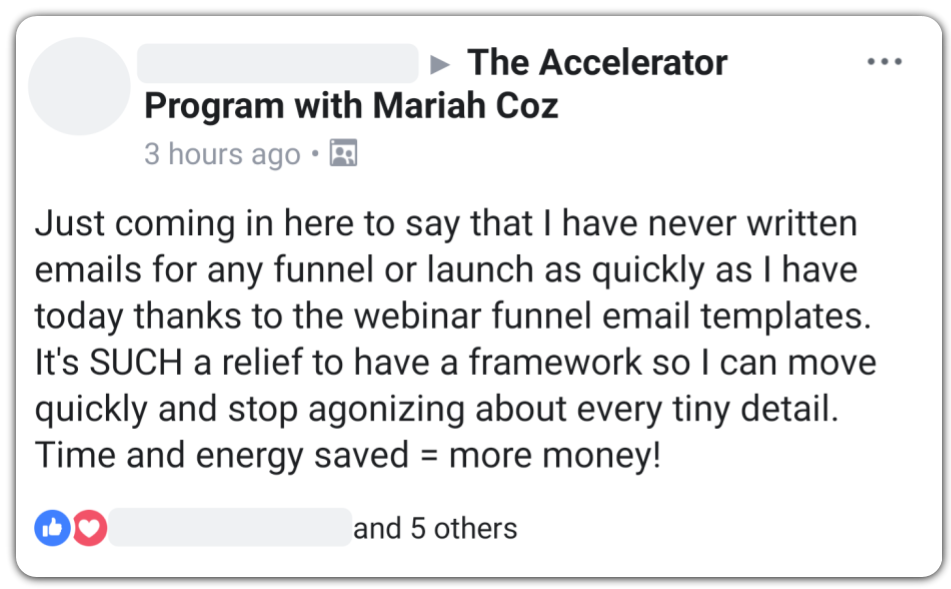 You want to make sure you have a strong set of emails that identifies the problem and establishes you (and your online course) as the best solution for your audience's problem.
#4: An Amazing Evergreen Webinar (Optional but recommended)
If your online course is $197 or less, you will most likely be able to have a successful evergreen sales funnel with just an email sequence and the right offer, sales page and copy.
But many of our clients and students take it to the next level with an evergreen webinar funnel (this one is my favorite type of funnel!).
If your course is a premium price, you'll definitely want to have an evergreen webinar funnel. Webinars are the best way to build that connection with your potential students, and really show them what your course can do for them.
Creating an evergreen webinar is a little different than a live webinar. The structure and slides have specific tweaks that make it effective on evergreen (you can't just throw up a recording of a live webinar in 99% of cases).
We give you a slide-for-slide template for your evergreen webinar in our Evergreen Engines™ course. Plus we show you how to actually record your webinar including what to say, what to NOT say, and all the little nuanced details of going from live to evergreen webinars successfully.
We show you how to build your entire evergreen webinar funnel start to finish in Evergreen Engines™.
See, an evergreen sales funnel isn't as complicated as people make it out to be.
There's some timing and technology that needs to happen, of course, but you don't need to create tons of new content for a funnel. You can re-use and tweak what you already have from your live launches.
Hopefully this helps you see that funnels aren't intimidating! And knowing how much they can completely transform your entire course business, I do not want you to be held back from creating your own evergreen sales funnel.
I truly believe every online course business owner needs an evergreen sales funnel.
Because once it's set up, it brings in sales and revenue every day/week/month while you are able to work on other things. That's what we call leverage!
So every day your evergreen funnel is not set up, you're losing out on selling more online courses! That's why it's so important to get it set up literally ASAP…not later, NOW!
You want to get these systems in place ASAP so you don't miss out on sales for the next few months while you work on other projects.
If you're ready to build out your evergreen funnel and need some help, you can apply to join me in my Accelerator program, where my clients are doing anywhere from $10K to $60K in their funnels every single month. We have all of the templates and tech trainings you need to get your funnel up and running in no time at all.
Learn more about the Accelerator and apply here >>
I hope to see you there!
Original Article : HERE ; This post was curated & posted using : RealSpecific
Best Clickbank Products